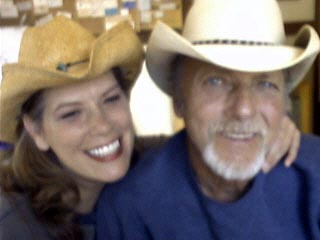 BROKEN M RANCH, LLC
EMAIL: brokenmranch1@comcast.net
CLICK ON DIRECTIONS TO GET TO US
TELEPHONE: 505-877-9433 FAX: 505-877-6954
NOTICE: PLEASE BE ADVISED THAT AT THIS TIME, WE CANNOT PROVIDE ANY HAY OR ALF TO OVERNIGHT CUSTOMERS, WHETHER IT BE GIVEN OR BOUGHT. THERE IS AN EXTREME SHORTAGE IN OUR AREA RIGHT NOW AND WE BARELY HAVE ENOUGH TO FEED OUR OWN HORSES.
AT THIS TIME, WE WILL NOW BE CHARGING A $5.00 FEE IF YOU PAY BY CREDIT CARD TO HELP COVER THE FEES.
Welcome to the Broken M Ranch and Stables! Let us introduce ourselves ..... we are Keith Duke and Susan Kathleen Miller, originally from Michigan. In Michigan, Keith was a Detroit Narcotics Officer and was known to most as Keith, Sarge or Playboy (his code name). When he retired and relocated to New Mexico, he decided to become a cowboy and promptly dropped the "Keith" from his name and became "Duke" (that is, to eveyone except for me). "Duke," intrigued by the western lifestyle out here, traded in his riding lawn mower for his first horse, and this started what has now become the "Broken M Ranch", the "Broken" cause something is always broken around here




><
Please Contact Us with ANY questions - Thank You!